The Cattery
Pet Care :: Hours/Prices :: Gallery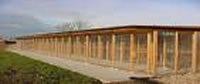 We have twenty individual cat pens that are large enough to house two or three cats sharing from the same family. Each pen has a raised sleeping area with an individual thermostatically heated bed. There is access to a cat flap that leads down to the ground floor with a full length run, plenty of toys, and a viewing shelf. Luxurious fleece blankets are supplied but should you want to bring along your own cats blanket or bedding you are more than welcome to.

It goes without saying that hygiene is of the utmost importance and all our cattery pens are thoroughly cleaned between occupants, and a daily cleaning routine is carried out with great attention to detail.

As you would expect, every cat is brushed and cared for by our dedicated staff throughout the day.